HEARTSINE SAMARITAN PAD 450P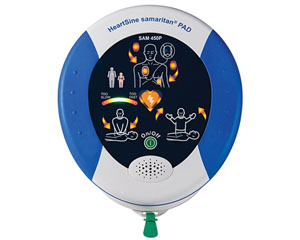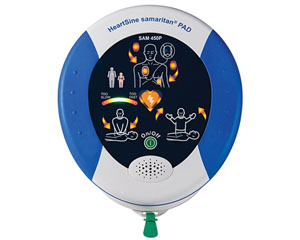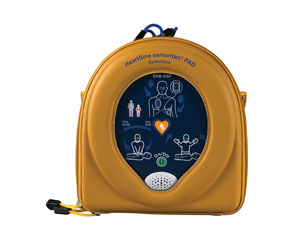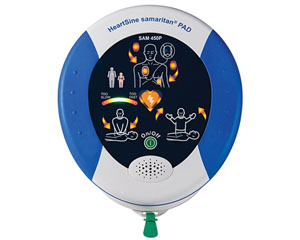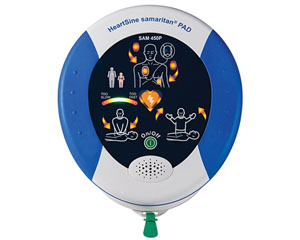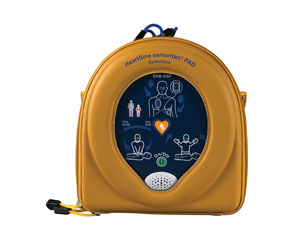 What's Included:
New Heartsine Samaritan PAD 450P AED
Carry Case
10-Year Warranty
User Manual
Pads & Battery (Pre-Installed)
First Responder Kit
AED Inspection Card (I-Tag)
"AED On-Site" Window Decal (AEDecal)
Club AED (Pad and Battery Expiration Reminders)
Free Shipping
The HeartSine 450P is the newest addition to the popular Samaritan PAD AED line. It includes all the features that made the 350P an industry leader, but it's now enhanced with an integrated CPR Rate Advisor. If you're looking for one of the smallest, most user-friendly AEDs on the market, look no further!
Defining Features
CPR Rate Advisor. Provides real-time audible and visual CPR feedback to help you achieve the optimal rate and depth at all times. Because the HeartSine Samaritan PAD 450P uses electrode analysis to assess chest compressions, it offers feedback with the greatest accuracy.
Simple 2-Button Operation. One button activates the AED; the other delivers shocks. The streamlined design ensures that anyone can confidently administer treatment during a cardiac emergency.
Unparalleled Ease of Use. The 450P AED provides step-by-step voice instructions aided by visual diagrams illuminated on the device display. It even conducts real-time heart rate analysis and prompts the user to press the shock button only if electric shock is beneficial for the patient.
Simplified Program Management. Thanks to the included Pad-Pak cartridge, your battery and pads are contained to one central component. You never have to worry about multiple expiration dates for multiple parts.
Cutting-Edge Technology. This portable AED uses state-of-the-art SCOPE biphasic technology and other proprietary technologies to customize treatment based on specific heart rhythms, thereby maximizing a patient's odds of survival.
Unparalleled Durability. With its IP56 dust-and-water rating and military-standard drop certification, the HeartSine Samaritan PAD 450P is one of the most rugged AEDs available.
The Most Compact Size. At just 2.4 pounds, the 450P continues the Samaritan PAD tradition of being the smallest AED on the market.