V.E.T. Virtual Emergency Training - 4 Students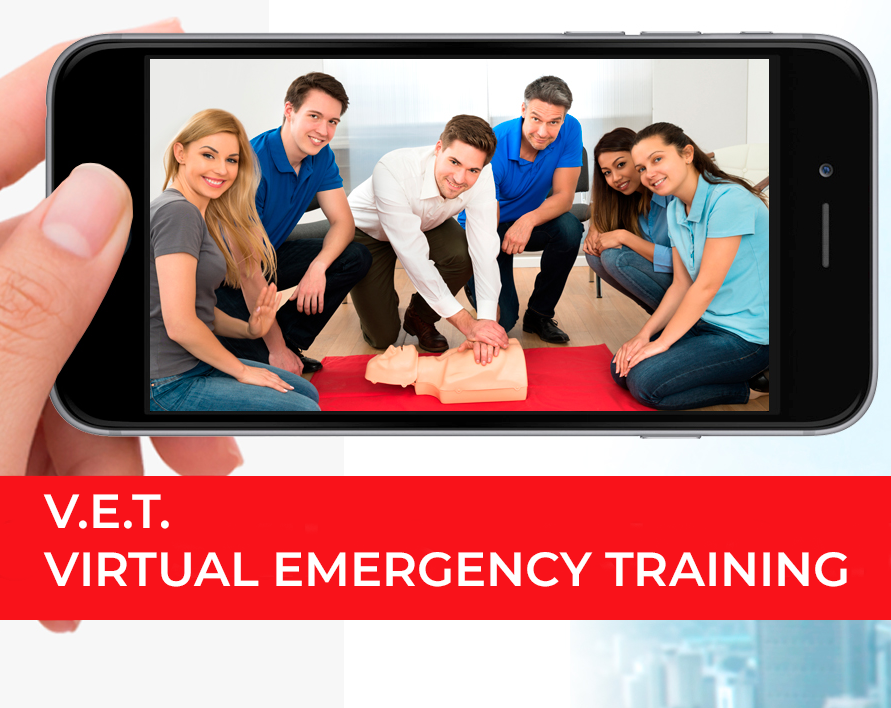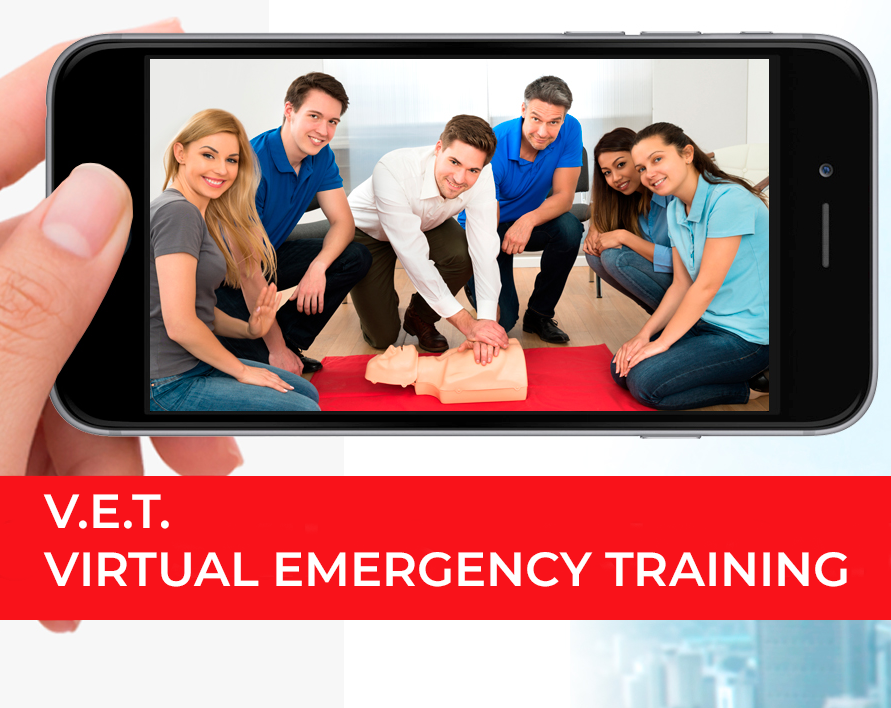 V.E.T. Virtual Emergency Training - 4 Students
Combined CPR, AED, First Aid Certification. A new approach which combines online, self paced, cognitive learning with virtual hands-on skills practice delivered by an authorized instructor. 
Students must perform required skills competently without assistance. Required for successful completion (Certification)
ASHI CPR, AED, and Basic First Aid combination training delivers an easy option for students seeking a comprehensive training class that builds the confidence to respond. This First Aid, AED, and CPR certification course option is an excellent choice for both the community and workplace setting, and conforms to the 2015 AHA Guidelines Update for CPR and ECC, and the 2015 AHA and ARC Guidelines Update for First Aid.
Current, Evidence-Based, Peer-Reviewed and Accepted
ASHI training programs are recognized, accepted and approved by, or meet the requirements of, nearly 2,400 state regulatory agencies, occupational licensing boards, national associations, commissions and councils in more than 120 occupations and professions.
Steps for our V.E.T. class 
1) Fill out the form
2) On payment a email containing a link to the online portion of the class will be sent to each participant
3) Schedule the date and time for the virtual skills assessment. Allow a total time of 1 hour for 4 students. 
4) Each student must complete the online cognitive learning 10 days prior to the date of the virtual skills verification. This allows time for shipping the loaner mannequin to the location for the skills assessment. 
5) A loaner mannequin will be mailed in a pre-paid return shipping container to the address of the physical location for the hands-on skills assessment.
6) A Zoom link will be sent to the email address provided for the virtual skills assessment 
7) On the completion of the virtual skills assessment, return the mannequin in the prepaid box. 
8) Digital certificates will be emailed to each student on notification of the shipped mannequin. 
Required Information Form
var gform;gform||(document.addEventListener("gform_main_scripts_loaded",function(){gform.scriptsLoaded=!0}),window.addEventListener("DOMContentLoaded",function(){gform.domLoaded=!0}),gform={domLoaded:!1,scriptsLoaded:!1,initializeOnLoaded:function(o){gform.domLoaded&&gform.scriptsLoaded?o():!gform.domLoaded&&gform.scriptsLoaded?window.addEventListener("DOMContentLoaded",o):document.addEventListener("gform_main_scripts_loaded",o)},hooks:{action:{},filter:{}},addAction:function(o,n,r,t){gform.addHook("action",o,n,r,t)},addFilter:function(o,n,r,t){gform.addHook("filter",o,n,r,t)},doAction:function(o){gform.doHook("action",o,arguments)},applyFilters:function(o){return gform.doHook("filter",o,arguments)},removeAction:function(o,n){gform.removeHook("action",o,n)},removeFilter:function(o,n,r){gform.removeHook("filter",o,n,r)},addHook:function(o,n,r,t,i){null==gform.hooks[o][n]&&(gform.hooks[o][n]=[]);var e=gform.hooks[o][n];null==i&&(i=n+"_"+e.length),gform.hooks[o][n].push({tag:i,callable:r,priority:t=null==t?10:t})},doHook:function(n,o,r){var t;if(r=Array.prototype.slice.call(r,1),null!=gform.hooks[n][o]&&((o=gform.hooks[n][o]).sort(function(o,n){return o.priority-n.priority}),o.forEach(function(o){"function"!=typeof(t=o.callable)&&(t=window[t]),"action"==n?t.apply(null,r):r[0]=t.apply(null,r)})),"filter"==n)return r[0]},removeHook:function(o,n,t,i){var r;null!=gform.hooks[o][n]&&(r=(r=gform.hooks[o][n]).filter(function(o,n,r){return!!(null!=i&&i!=o.tag||null!=t&&t!=o.priority)}),gform.hooks[o][n]=r)}});
gform.initializeOnLoaded( function() {gformInitSpinner( 7, 'https://heartsafeservices.com/wp-content/plugins/gravityforms/images/spinner.svg', true );jQuery('#gform_ajax_frame_7').on('load',function(){var contents = jQuery(this).contents().find('*').html();var is_postback = contents.indexOf('GF_AJAX_POSTBACK') >= 0;if(!is_postback){return;}var form_content = jQuery(this).contents().find('#gform_wrapper_7');var is_confirmation = jQuery(this).contents().find('#gform_confirmation_wrapper_7').length > 0;var is_redirect = contents.indexOf('gformRedirect(){') >= 0;var is_form = form_content.length > 0 && ! is_redirect && ! is_confirmation;var mt = parseInt(jQuery('html').css('margin-top'), 10) + parseInt(jQuery('body').css('margin-top'), 10) + 100;if(is_form){jQuery('#gform_wrapper_7').html(form_content.html());if(form_content.hasClass('gform_validation_error')){jQuery('#gform_wrapper_7').addClass('gform_validation_error');} else {jQuery('#gform_wrapper_7').removeClass('gform_validation_error');}setTimeout( function() { /* delay the scroll by 50 milliseconds to fix a bug in chrome */ jQuery(document).scrollTop(jQuery('#gform_wrapper_7').offset().top - mt); }, 50 );if(window['gformInitDatepicker']) {gformInitDatepicker();}if(window['gformInitPriceFields']) {gformInitPriceFields();}var current_page = jQuery('#gform_source_page_number_7').val();gformInitSpinner( 7, 'https://heartsafeservices.com/wp-content/plugins/gravityforms/images/spinner.svg', true );jQuery(document).trigger('gform_page_loaded', [7, current_page]);window['gf_submitting_7'] = false;}else if(!is_redirect){var confirmation_content = jQuery(this).contents().find('.GF_AJAX_POSTBACK').html();if(!confirmation_content){confirmation_content = contents;}setTimeout(function(){jQuery('#gform_wrapper_7').replaceWith(confirmation_content);jQuery(document).scrollTop(jQuery('#gf_7').offset().top - mt);jQuery(document).trigger('gform_confirmation_loaded', [7]);window['gf_submitting_7'] = false;wp.a11y.speak(jQuery('#gform_confirmation_message_7').text());}, 50);}else{jQuery('#gform_7').append(contents);if(window['gformRedirect']) {gformRedirect();}}jQuery(document).trigger('gform_post_render', [7, current_page]);gform.utils.trigger({ event: 'gform/postRender', native: false, data: { formId: 7, currentPage: current_page } });} );} );